Profile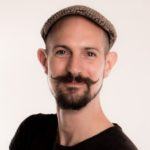 Russell Arnott
Enjoying the sunshine back at Bath Uni!
My CV
Education:

Dubai College, UAE; Winton School, Andover, UK; Cricklade College, Andover, UK; Winchester School of Art, UK; Southampton University, UK; Sussex University, UK; Bath University, UK

Qualifications:

PreDegree Diploma in Fine Art Painting; 4-year Masters of Oceanography; PGCE in Secondary Science Teaching (Physics); (almost) a PhD in Phytoplankton Dynamics

Work History:

Physical Oceanographer at Emu Ltd Environmental Surveyors; Assistant Head of Science / Head of Physics at Oriel High School, Crawley; Presenter / Educational consultant at Incredible Oceans

Current Job:

Post-graduate researcher in Phytoplankton Dynamics
Read more

I live in Bristol but work in Bath so I have to cycle up the steepest hill ever to get up to Bath Uni. I enjoy playing guitar and used to play in a punk band; we toured Europe 4 times (3 times we only used public transport). I have recently learned to freedive (hardcore snorkelling) and have held my breath for 3mins 32seconds. I can also burp on command.

Read more

Plankton are tiny plants and animals that live in the world's waterways; every river, lake, puddle, pond, sea and ocean has got plankton floating in it. I study PHYTOplankton which are the microscopic plants. Phytoplankton produce 80% of the oxygen that keeps us alive, form the basis of 99.9% marine food webs, form clouds and reduce the effect of global warming by absorbing CO2. So they're pretty important.

I'm trying to find out how their shape plays a part in helping different species survive in different environments. I get populations of phytoplankton and put them in large tanks called mesocosms. I then subject them to different conditions and see which species survive. I then scan and count them using different types of microscopes. I am hoping to produce 3D printed models of different species so I can test how different shapes perform hydrodynamically. Fingers crossed it'll work!

I have recently come back from working in the Weddell Sea (nr Antarctica) with the British Antarctic Survey where I was learning new techniques to measure mixing in the ocean. We accidentally discovered an underwater mountain the size of one of the Alps.

My Typical Day:

Processing data and writing stuff!

Read more

Being a marine scientist, you tend to spend an intensive period out in the field gathering data. Sometimes, you are working as part of a team to sample things for 24-hours a day over a two-week period. Once you have your data, it's a case of trying to see if there's a pattern or a story in what you measured.

This can involve a lot of time staring at a computer screen or holed up in a lab as you process all the data you've got. Some of the data sets we produce are so large that they won't even fit in Excel; most of them are multidimensional (difficult to imagine with a tiny human brain) so I have to write computer code to help me process all the data and see if there's any patterns!

What I'd do with the prize money:

An awesome plankton show in schools!
My Interview

How would you describe yourself in 3 words?

excitable, easily distracted

What did you want to be after you left school?

I wanted to work in the dump

Were you ever in trouble at school?

All the time

Who is your favourite singer or band?

At the moment, I'm loving the new Bilge Pump album

What's your favourite food?

Ceviche (raw fish that is "cooked" using lemon juice) or oysters

If you had 3 wishes for yourself what would they be? - be honest!

To lead a happy & worthwhile life; to understand maths better; for my hair to grow back

Tell us a joke.

Knock knock. (who's there?). Europe. (Europe who?). No; you're a poo!
---
---
---