Profile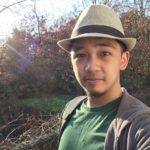 Gabriel Gallardo
Curriculum Vitae
Education:

University of Hong Kong, University of Oxford

Qualifications:

BSc (Hons)

Work History:

University of Hong Kong

Current Job:

D.Phil. student at the University of Oxford
Favourite thing to do in my job: Doing hard things, and succeeding

About Me

Aspiring physicist, avid musician, occasional photographer and videographer

Read more

I'm ethnically Filipino, but I was born and raised in Hong Kong. I grew up speaking English at home and Cantonese in school; unfortunately I never learned to speak Filipino, but I'm kinda sorta learning French now.

In my free time I like to play music. I play the guitar, piano, and bass guitar; I sing as well! The Beatles were my first and are my greatest musical inspiration. I listen to lots of other older artists too, like Stevie Wonder, the Police and James Taylor.

I also like to take photos and make YouTube videos sometimes.

My Work

I use the biggest machine in the world to study the smallest things in the universe.

Read more

The Large Hadron Collider is the world's biggest machine. It's a big, 27 km-long circle under Geneva in Switzerland. It's like a big microscope that lets us look into the quantum realm.

Like in the Marvel movies, the quantum realm is all about the smallest things in the universe. Unlike the movies, however, we don't make ourselves smaller than ants to study it, instead we use big machines to see what's there.

We humans already have a good idea of what's there, actually. If the universe were a big Lego store,  fundamental particles are the bricks that make up everything you can find in it. There's a whole zoo of fundamental particles out of which our universe is made.

Even though we know a lot already, there's still more we don't know and so we're still curious: we want to find out if there are more Lego bricks than those that we know about. How do we find out? We try to break things.

In the Large Hadron Collider, we try to make protons crash into each other at almost the speed of light. When we do that, we can make fundamental particles, which we then take pictures of with special cameras.

It's like if you tried to find out what a car was made of by smashing two cars together at high speed. If you took a slo-mo video of that car crash, you'd be able to pick out all the car parts flying out of the collision – the windows, the doors, the wheels, the engine…

In a similar way, we can crash protons together to see what they're made of; however, unlike our car crash example, sometimes we can make new particles, like if you crashed two cars together and a boat came out.

We try to take as many pictures of these collisions as we can in the hopes that maybe we'll make a new particle we've never seen before.

My Typical Day

Some coding, some drawing, some meetings

Read more

This is the lab where I work. It's called CERN. It's the organization which hosts the Large Hadron Collider.

Sometimes I get to sit here and help control our big experiment. Whenever I'm here I feel like I'm on the bridge of the starship Enterprise, ready to boldly go where no one has gone before.

Usually I hang out in my office. My office mate doesn't come in a lot, so I often have the place to myself.

My work is basically a cycle of (1) thinking about what to do, (2) writing computer code to do, and (3) showing my results to my colleagues.

What I'd do with the prize money

Fund a teenager to come to CERN

Read more

I'm from Hong Kong, where we don't really hear much about all this exciting work done at CERN. I'd like to change that, even if just a little bit.

I know a university professor in Hong Kong who organizes school trips to CERN. However it is quite expensive, as Hong Kong is far, far away from Geneva, and Geneva is quite an expensive city to be in.

If I were given the prize money, I would put it towards a scholarship that would fund a Hong Kong student to come visit CERN. I would meet them when they come, and show them and their group around CERN.

I come from a lower-middle class family. We didn't have the means to send me to CERN. It was only through the generosity of scholarship donors that I managed to come to CERN for the first time about 3.5 years ago. When I first arrived, I knew nothing about CERN or what it did, but being here opened my eyes to all the exciting research that is being done. That first visit made me decide to pursue a career in particle physics.

It would be great I could help someone come to know and love particle physics.

My Interview

What or who inspired you to follow your career?

Being at CERN

What was your favourite subject at school?

Physics

What did you want to be after you left school?

I didn't really know, honestly.

Were you ever in trouble at school?

Hahah I always handed in my homework late.

Who is your favourite singer or band?

The Beatles

What's your favourite food?

A good bacon cheeseburger

What is the most fun thing you've done?

Rolled down a mountain when skiing for the first time.
---
---
---