Profile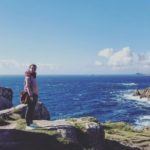 Adelie Gorce
Curriculum Vitae
Education:

Imperial College London

Qualifications:

BSc & MSc

Work History:

I am still a student..

Current Job:

PhD student

Employer:

After my A-levels, I did a bachelor in Engineering in France and then a Masters in Physics in London. I had a few placements in research and really loved it, so I decided to keep researching and I started a PhD at the Imperial College in London two years ago.

My connections to STFC science and technology:

They fund me
Favourite thing to do in my job: Get to travel to wonderful places to meet fascinating people

About Me

I am a PhD student looking at the first stars ✨

Read more

Hi everyone!

I am Adélie, I come from France but have been living in the UK for 3 years now, I really like your home! I live and work in London, I cycle every morning to work through Hyde park, that's my favourite part of the day… 🚲 I am a huge Harry Potter fan (that's maybe why I came to the UK in the first place!) and I think I could quote any scene of any of the 8 films (or any chapter of any of the books 🤓). I live in a house with two friends and we love spending time and cooking together – everybody cooks dishes from his home (one is Canadian, the other Chinese), it is a very happy place 🎉

My Work

I am a PhD student looking at the birth of the Universe and of the first stars

Read more

In my work, I look for the first stars, as we have no idea when they were born. To do this, I use very big telescopes located everywhere in the world (the next one I'll go and use is in Australia!) to look as far as I can in the sky and find them. Because we do not always know where to look, I also develop theories of what could have happened in the history of the Universe that could help us see those first stars…

Read more

On a typical day I spend a lot of time having breakfast (it is the best part of the day!), then I cycle to work (or maybe that is) and sit at my computer to do my theory work. Then I run ti buy lunch and eat it during what we call a "journal club": a scientist from my group presents to the other the latest discoveries of his field, it is usually very exciting. After this, I teach math to undergraduate student for two hours, and then get back to my computer to see if I have exciting results… and cycle home in the dark… 🥶

What I'd do with the prize money

Organise a SpaceBus

Read more

If I won the prize money, I would use it to organise in the UK an event similar to something I took part in in France: a Space Bus! It is a bus that carries a lot of fun activities for children to learn about the stars, the planets and the Universe and that stops on beaches and in parks in the summer. Then you get to discover many exciting things while on holidays!

My Interview

How would you describe yourself in 3 words?

Enthusiastic, optimistic, knowledge-hungry

What's the best thing you've ever done in your career?

The SpaceBus!

What or who inspired you to follow your career?

I had so many questions to find answers to...

What was your favourite subject at school?

Physics, maths and history!

What did you want to be after you left school?

A physicist!

Were you ever in trouble at school?

A bit of bullying... but I made it!

If you weren't doing this job, what would you choose instead?

Physics teacher

Who is your favourite singer or band?

Two Door Cinema Club

What's your favourite food?

Pizza 😇

If you had 3 wishes for yourself what would they be? - be honest!

To know how to fly, to apparate and to be invisible

Tell us a joke.

Never trust an atom because they make up everything.
---
---